My brother came to my door yesterday, he was going off on holiday and wanted to do some last-minute shopping in St Andrews. I had just returned from my bike ride and told him to give me five minutes to shower and change and I would take him for coffee and a scone. I have a favorite little cafe, where they make homemade scones, just like mother used to make, and big enough to satisfy the biggest eye and belly.
Settled in at a table and out of the blue, my brother said,
"That Nicola Sturgeon is one stubborn bugger"
Now this was something new, my brother hardly ever mentions politics, and since we are poles apart, he a Tory and me, well, I'm not sure exactly, but always a socialist. I think it is an age thing, Campbell remembers the war and the British Empire days, Queen and Country, and all that, we were all very British coming out of the war. I, on the other hand, was one of the rebellious teenagers that came along in the late 1950 and early1960.
He said, Sturgeon needs to forget this independence rubbish and get on with putting the country back on its feet, get a economic recovery sorted out, not independence.
Red rag to a bull time.
"And how do you believe economic recovery for Scotland can happen without independence?" I asked.
Does Scotland control, anything. The waters around our coast, the fish within those waters, the oil under those waters, no, Scotland's waters are in the hands of American hedge-fund manager based in London, Boris Johnston, could not give a shit about, Scotland, her people, or her problems. And I suspect, he cares with just as much enthusiasm about the problems of people in all the other parts of the United Kingdom.
"The UK government are spending millions to upgrade the dock at Dundee for decommissioning North Sea oil rigs" he told me.
So millions to get work, for how many years? And is it really the UK government that is putting up the money or the American oil companies that, by law, have to decommission the rigs? And when the old rigs have been decommissioned – what then, back on the dole queue? This is not a plan for the future this is lurching from hand out to hand out.
The buzzword at present is wind, wave, and tidal technology. We just saw the lunch of a huge tidal machine from the dock in Dundee, it goes on trials off the Shetlands, most of the development money came from the Scottish government. When trials are complete, how many of these machines do you expect to be built in Scotland?
"None" he agreed.
Everyone is talking about wind farms in the North Sea, yet Bifab at Methil, a fabrication yard that made jackets for wind turbines could not even get to weld two pieces of metal together for one of the large wind farms being installed in Scottish waters, and within sight of their front door. No, if there are to be wind farms in Scottish waters, they will be managed by hedge fund managers, and contracts for their manufacture and installation give out by them, and it is they that will set the cost of the electricity they generate to you the customer, Scotland will control nothing of it and certainly will not benefit financially from any of windfall.
He mentioned his son, (recently deceased) who worked for a company in Vietnam, his son's weekly wage, he told me, could pay the wages of 30 of the Vietnamese workers under him. You can not compete with such cheap labour, he told me
You see to me this has nothing to do with the bottom line, it is about the welfare of our people. I lived through the 1980s when Scotland (like many industrial societies at the time) was faced with those twin evils, unemployment and inflation. I knew the anger and despair of many working families – men who, after working all their lives to give their kids a good start in life, now find that most of their work has been in vain, for many of their kids now could not find jobs and face an uncertain futures on the dole. The 1980s hangover is still prevalent today.
My names Dan, I'm a working man,
A tarnished badge they tell me,
But one I ware with pride,
A fair day's work, for a fair day's pay,
I've always lived my life that way,
Now I can't help thinking,
I've been taken for a ride.
And those cast onto the dole queues in middle age.
When you're 55 years old and looking for some work,
No one wants to know your name,
No one gives you a start,
So I watched him growing older,
And more bitter every day,
As his pride and self-respect, was slowly stripped away,
There was nothing I could say,
They had no use for him.
What is the real cost to a country from unemployment? The mental health problems it brings are a big cost to the NHS. Broken marriages, children into care, social welfare, housing benefit, our prisons filling up with youngsters, and if there is no working class there is no income from taxation, all this lie at the doorstep of number 10 Downing Street. For these are government inflicted wounds
Yes, Campbell, the wages may be 30 times lower for people working in the far eastern factories and shipyards, but what of the standard and cost of living in Vietnam? If you continue to outsource all your work to the far eastern companies at the detriment of your own then, you must face up to the responsibility of those decisions, as our dad would have been quick to tell us,
"You make your bed, then it is you that must lie in it".
What will be better for Scotland and her people, an independent nation making her own decisions and way in the world, or a few more billionaires, under the Boris Johnston system, with the devil taking the hindmost?
And of course, we always part as friends and always still brothers. The scones were the berries too.
Today's ride, same as yesterday.
14.2 miles
Average speed 11.52 miles per hour
Time taken 1.13 hours
Max speed 24.63
Altitude climbed 640 feet
Calories burned off 557
So with 28.4 Miles in the tank, we can once more press on with our journey towards Nice.
Vitre to Craon 25 miles. This is a very relaxing part of our journey, you will leave the Breton flag as you cross over into the department of Mayenne, (although when I did this stretch it was in the opposite direction and into a headwind all the way to catch my ferry home.) the roads are tranquil back lanes well surfaced, carrying you mile after mile past fertile fields and into Craon, famous for its château and chariot racers. (Mary Queen of Scots, sleep here too.)
July is a time to be here if you wish to become embroiled in horse racing. Caron's hippodrome hosts nine national and international races attracting over 70,000 racegoers during the season. Sulky racing is big, and no matter the time, of year that you pass through, you will see, jockeys sitting on a light two-wheeled cart pulled by a briskly trotting horse. The locals of Craon love a flutter and outside, just about every small cafe and pub, you will see the PMU green sign with a picture of two horses. Inside they will be drinking their coffee, beer, or cider, clinging desperately to their betting slips. These betting stations are found in even the smallest cafe and bars and are a key part of the culture in the region.
Château de Craon, built out of the white limestone from the banks of the Loire, is well worthy of your time. Dating from the 18th-century is a more stately home than a castle proper. The château is open to the public and prides itself on wholesome cooking. The vegetables are all sourced from their own gardens. Take time to explore the forty hectares of grounds, its parks, and French-style garden by following the melancholy River Oudon, past grazing cattle, ducks and geese on a 6 km stroll.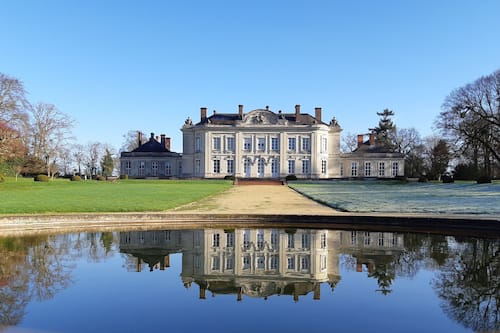 You can see that although I did the mileage required in two days, it was only just over an hour on both occasions, so would be easy to accomplish in one long summer day, an hour before lunch, and an hour in the late afternoon of early evening. This will leave plenty of time to sightsee and that is really the reason for going. If you only want a bicycle ride, well you can do that at home. No this is about the ambiance, the culture……….. May the wind always be on your back.
Stay safe.